Organizing Your Christmas
Ornaments and Lights
You probably expressed this sentiment last year (and maybe in years prior): "This is the year to get organized!" But you never did. That's ok, though, because this IS the year to get organized, and we're here to help.
Each holiday season, you get a new real Christmas tree – which is arguably the most memorable part of Christmas – but unlike your tree, your decorations don't go curbside for recycling once the holiday is over. So! How do you store your festive décor in a way that's safe, accessible and stress-free?
We've whipped up a few practical tips to help you organize your Christmas tree lights and ornaments to get you ready to deck those halls and keep holiday anxiety at bay.
Your future self will thank us.
Storage Tips 101
When packing and storing your ornaments and lights, think about the order in which you'll need to access each item. The ornaments or decorations that you want first should be packed last, so you can unpack them first. See how that works?

For example, when you start decorating your Christmas tree, what do you put on first? The lights, of course! So, you'll want to pack the lights on top of other ornaments or in the box that's most easily accessible. Ta-da!
How you store, sort, and organize your ornaments and lights is super important to streamline unboxing everything the following year and mitigating your stress.
Here are few additional storage tips and tricks to get you on your way to becoming a storage pro:
Signed, sealed, delivered. Make sure everything is sealed and store in a dry, cool space, and place fragile items on top of heavier items.
Separate holiday décor from tree décor. Depending on your decorating style, you may want to access Christmas tree ornaments and lights at a different time than the rest of your holiday décor. Keeping similar items stored together will allow you to efficiently deck out your home.
Make a kids' bin. Keep the ornaments that your kids love in their own container. The kids will feel special, and you'll avoid breaking any fragile items (for the time being).
Label everything clearly! A full year will pass before you access your ornaments, so give yourself some reminders. Be sure to label sentimental ornaments with details, such as the year you acquired them and their significance to your family.
If you follow just these basic storage tips, you'll be well on your way to organizational heaven. If you are looking for more insight, we've got you covered.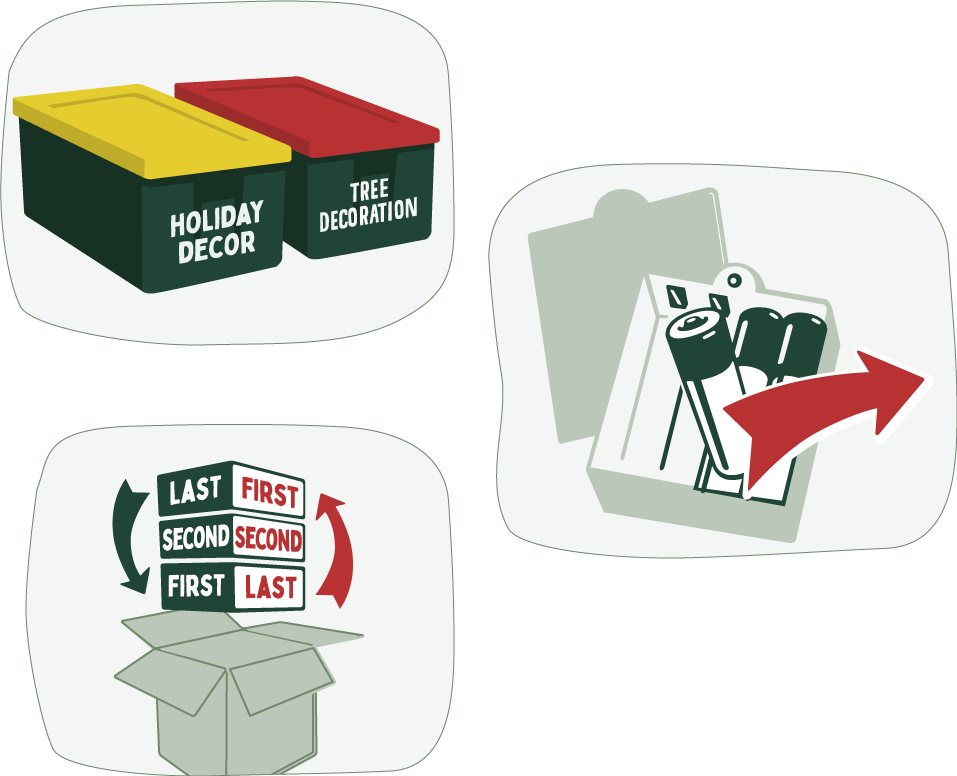 Download and Print!
You can keep all this information handy, or send this useful reference guide to someone who's looking to get organized this year.
Download & Print!
Tree Light Organization
Sometimes it feels like Christmas tree lights go out of their way to tangle themselves. It's like they know what they are doing! Fret not, there are ways to keep your lights untangled and stored frustration-free.
Use a piece of cardboard. Securely and neatly wrap the lights around a square of cardboard to keep your lights from getting tangled.
Velcro straps are your friend. Wrap the lights around your arm (you know, palm-to-elbow-to-palm-to-elbow…), then secure with one of those Velcro cord straps – the same type of straps found on most modern electric cords.
Buy a tree light storage reel. Most home improvement centers sell light storage reels and bins, if you have a lot of lights or prefer something made specifically for lights.
Packing Ornaments
You might be tempted to just throw your ornaments in a box, then call it day. But believe us, your ease in that moment will lead to frustration in the future.

Store them in the box they came in. For Christmas ball ornaments, this is an especially great way to keep them from breaking. And it's cost effective!
Use an egg carton or coffee cup holder. If you accidently threw out the box, these make great alternatives.
Divide 'em. If you don't have either handy, wrap each ornament individually and use dividers to keep them from breaking. Wine boxes generally use dividers to keep the wine safe – don't throw these out!
Store more fragile items in smaller boxes. Wrap them well with tissue paper or bubble wrap. Shoe boxes make great storage boxes and can be placed in larger boxes to consolidate.
Put your ornament hooks in a sealable plastic bag. That way, they won't get lost in boxes, and you won't need to buy new ones each year.
Ornament storage boxes work too! You can also purchase ornament storage boxes or bins from a retailer or home improvement center.
Use smaller boxes. Instead of one large box for many items, smaller boxes make it much easier to find what you are looking for, especially if they are categorized.
Storing Stands and Other Christmas Décor
The ghost of Christmas past will not come back to haunt you if you take extra extra time to organize all of your Christmas décor properly, not just lights and ornaments. This is also a great time to ask yourself what you want to keep and what you can purge.

Here are few more tips on how to store additional holiday decorations.
Stands
Remove the water. Use a ladle or turkey baster to get all the water out, then make sure you thoroughly wash and fully dry the stand before storing.
Pack it up! Use the same box the stand came in to pack the stand up. Or you can use a big enough cardboard box. Use bubble wrap if you are packing your stand with any additional items.
Store with your ornaments. You'll want your stand first, so place it in the most accessible spot.
Christmas Décor
Store stockings with ornaments. Once you get the tree up, continue the excitement by hanging your Christmas stockings. If they are stored in the same area, you'll have no problem finding them.
Save your boxes! Outdoor decorations, such as an inflatable Santa or reindeer, can (and should!) be stored in the boxes they came in. If you don't keep the boxes, heavy duty plastic bins are the way to go.
Reel talk. For outdoor lights, use one of our handy-dandy light tricks (above) or we recommend getting a reel, since you may have extra yardage with outdoor lights. Reels are easy to use, and they keep the lights tangle-free!
Eat all your candy canes. Every. Single. One. Well, maybe don't do that, but you also shouldn't store any food items long-term, such as candy canes or popcorn garlands. They won't last until next year, and could cause critters to invade your home.
Batteries not included. Take the batteries out of any electronic devices before storing to avoid corrosion.
Store similar Christmas décor in the same area. Ornaments with ornaments. Lights with lights. Outdoor decorations with outdoor decorations. You get the idea.
Keep Santa secure. Remember to store any Santa-related decorations in a double-secret location!
Closing out the holiday season can be filled with many emotions. Taking extra care and time to properly store your decorations may extend your holiday nostalgia just a little bit longer. And you'll be efficiently organized for next year! Win-win!