Pro Advice for Amateur Photographers
We've all been there – trying to get the perfect family photo in front of the Christmas tree, but something always seems to go awry. The kids are grumpy, the lighting is off, everyone's distracted, and you're running around trying to make the holiday magic happen. It's not fun for anyone!
To get some insight on how to capture that gorgeous family holiday photo, we asked a professional photographer for some tips. And boy, did she have some great ones!
Family Fun, Not Perfection
First and foremost – have fun! Remember: life isn't perfect – it's the messy moments in between that make life, well, life! Sweet candid moments are often more memorable than everyone nicely smiling for the camera. Take some pressure off yourself and bring the focus back to creating special moments together.
Get the Light Right
Hands down, natural lighting works best for photography.
For outdoor photos, aim for a time later in the afternoon, when the sun is starting to set. Avoid direct sunlight or you'll end up with squinty eyes, sun glares, and washed out faces. Cloudy days provide the best lighting for outdoor photography, but a shady spot on a sunny day works great as well. If you are taking your photo indoors, use house lights or open the shades allowing the ambient sunlight to do the work. Most likely, you'll take your family photo on your mobile phone or digital camera – both of which take excellent photos – but avoid the flash, which can be harsh and unflattering.
Scope Your Scene
Is there anything festive or unusual that you can highlight? Is there something you'd like to avoid?
Rustic buildings, snow-covered landscapes or any noteworthy parts of your home all make the composition of the photo more interesting by adding something unique to the background. If there is something in your shot you are trying to avoid, like clutter or store signage, crop the image tighter or find a corner, so you only showcase the best part of the space.
Take a test picture (or 20), so you can examine the shot to see if you need to adjust anything.
Pro photog tip: Create depth in your image by putting some distance between your subject(s) and your background (such as your Christmas tree) – about five to six feet is ideal for this photography trick.
Photo Cheat Sheet
Since you might be using your phone when the time comes to take your picture, take a moment to download and print these tips.
Download & Print!

Capture All the Moments
Document all your holiday moments, including getting your real Christmas tree, so you have more photos to select from. You won't regret having all those memories on hand, and you may find the winning holiday image among them.
Capture as many images outdoors as possible and keep the composition focused on your family and the tree. For a tree farm adventure, schedule your outing later in the afternoon, so you can capitalize on the amazing natural lighting and ambiance. While at home, have the camera (or phone!) ready when baking cookies, setting up the tree, wrapping presents, and decorating.
Say, Watermelon!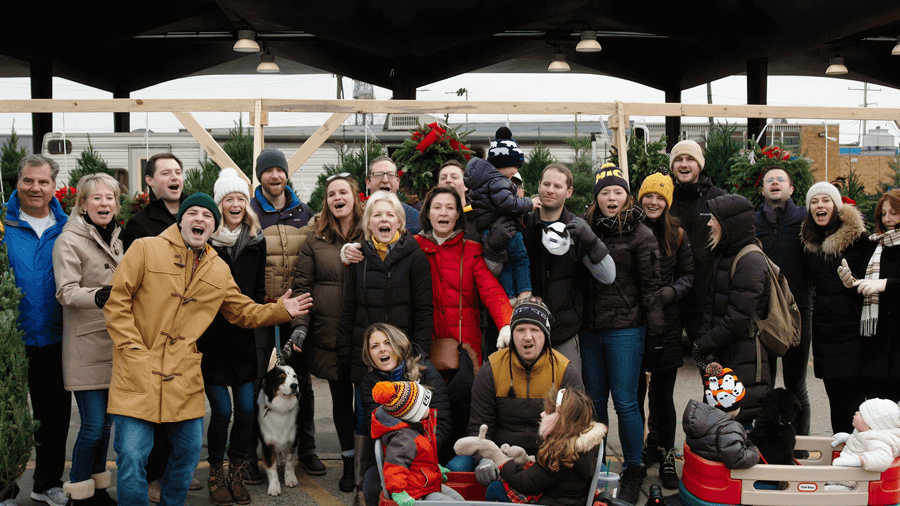 Some good advice from our photographer, "If you are stressed, everyone will be stressed. Keep it lighthearted!" Your family will feed off your energy, so make it fun.
Set up your shot before involving the family – this is where those test pictures will come in handy! When you get the family ready, move quickly and efficiently. Use a timer if you don't have someone to take the photo and take as many images as you possibly can. To get those smiles, retell a cherished family story or an inside joke. Try a different word than "Cheese!", like "Watermelon!" or "Santa Claus!" or a silly word that will make everyone laugh.
When all else fails, bribe your kids. We won't judge!
Pro photog tip: If you think about smiling too much, your smile won't look natural. Photographers will often have conversations with their subjects to get them to relax and give natural smiles.
We can't WAIT to see your family photos this year. Don't forget the most important lesson: life isn't perfect. But no matter what, your family photo will be!